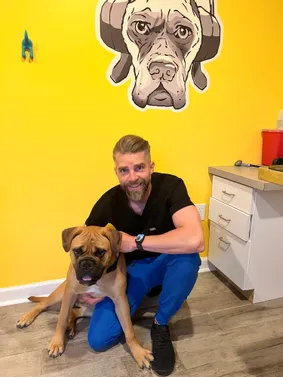 Dr. Matthew B. Thompson was born and raised in Louisville, Kentucky, where his dream of becoming a veterinarian began at a very young age. He graduated from St. Xavier High School in 2001. From there, Dr. Thompson attended the University of Kentucky and earned a B.S. in Animal Sciences.
Making the move out west, he received his Doctorate of Veterinary Medicine in 2012 from the Western University of Health Sciences, located in Los Angeles, California. His experiences in Kentucky and California led him back home, where he practiced at Lyndon Animal Clinic for 10 years. In 2022, an opportunity arose for him to move to Anchorage Animal Hospital and become a member of its amazing team.
His veterinary passions include dermatology and surgery. When he is not practicing medicine, he enjoys golfing, playing energizing beats as DJ Dr. Matty T, and spending time with his wife (Emily), sons (Blake and James), and Bullmastiff (LuLu).