Support Staff
Vanessa - Vanessa Martin is the hospital manager at Anchorage Animal Hospital. She was born and raised in Oldham County, Kentucky, and graduated from South Oldham high school in 2005.
She found her love for animals after meeting The Oliver Family in Elementary school, and she worked for Dr. Kurt Oliver at Lyndon Animal Clinic for many years. Starting as a kennel technician in 2004, She has worked in all facets of the veterinary hospital and stepped into the Hospital Manager role in 2021.
In January of 2023, Vanessa became a part of the Anchorage Animal Hospital Team. In her off time, Vanessa enjoys raising her two little girls, Meredith and Murphy, with her husband Sergio. She has three dogs named Jimmy, Rory, and Nacho Wags. Reading is her favorite way to relax.
---
Camille - Camille has been a receptionist at AAH since 2015.

Camille is always on the go. She enjoys spending time with her family and on the sidelines at her grandkids' sports, as well as being active in agility and dog sports with her papillons Victor and Weezie.
---
Jean -Jean joined our team at Anchorage Animal Hospital as a receptionist in March 2005, after working in veterinary hospitals since 1980 as either a receptionist or Practice Manager. Although she has "retired," she continues working and doing what she obviously enjoys.
She shares her home with her husband and their cat, Zoe. In her spare time, she enjoys spending time with her family, fishing, and going to her granddaughter's soccer games when possible. She also enjoys cooking, sewing, drawing, and going to antique malls with her husband.
---
Jenny - Meet Jenny, our lead LVT. She's originally from Pennsylvania, where she attended the Veterinary Technician program at Lehigh Carbon Community College. She now lives in Louisville with her husband(Kevin)and lab/mastiff mix Arya.
She has experience in general practice, specialty surgery, and emergency care. She's very passionate about providing quality care to her patients and advocating for them. In her free time, she enjoys outdoor activities and trying new restaurants.
---
Leslie - Leslie joined the AAH staff in July of 2021. Leslie has been working as veterinary technician since 2015. She has worked for us previously at our Breckenridge Animal Hospital, first as a receptionist and then rejoining us as a technician in 2019.
Leslie is the "very proud" mom of 1 human boy and also a pitbull named Skip. She's a dog person! If she's not at work she enjoys doing home improvements and riding their motorcycle with her husband Dave.
---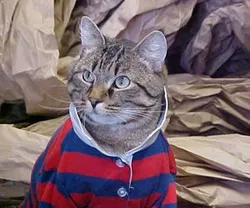 Pickle - Pickle, our office mascot/CEO, joined our team in 2005. At the time he was almost 2 years old, unsure of his surroundings, a little scared and definitely not afraid to show it. After months of love, kisses, belly rubs and cat nip he became much more comfortable and hasn't looked back. As a vital member of our team Pickle oversees the daily activities and isn't afraid to voice his opinion with a hearty meow. In his spare time Pickle enjoys playing with his toys, rolling around in cat nip, stalking birds through the window and eating. He is currently single and has no plans to start a family (he's neutered), but he enjoys being a surrogate father to cats and kittens up for adoption in the clinic.